We're sure you've heard a lot of mineral vs. chemical sunscreens and you're wondering, what's the difference and which should I use. Well we're here to clear things up for you ;-)
We're sure you've heard a lot of mineral vs. chemical sunscreens and you're wondering, what's the difference and which should I use. Well we're here to clear things up for you! 
Difference Between Mineral and Chemical Sunscreen 
Chemical sunscreens are commonly made with one or more of the following ingredients:Avobenzone, Homosalate, Octinoxate, Octisalate, Cinoxate, Dioxybenzone, Ensulizole, Meradimate, Padimate, Sulisobenzone, Avobenzone. Whereas, mineral based sunscreens are made with zinc oxide and titanium dioxide. 
The way that the ingredients in chemical sunscreen work is that they must be absorbed into your skin, once absorbed into the skin, it will absorb the sun's rays for you so that your skin won't absorb it. Mineral sunscreens have a very different mechanism. Instead of absorbing into your skin, mineral sunscreens sit on top of the skin. Instead of absorbing the sun's rays for you, the mineral extracts deflect the light so that your skin can not absorb it. 
For this reason, you'll observe that mineral sunscreens are described as "non-nano." This is because the particles are purposely larger so that they sit on top of your skin, instead of absorbing into your skin. 
Why Chemical Sunscreens are Dangerous  
According to the FDA many of the active ingredients in commercial sunscreen are absorbed at high levels into our bloodstream and remain in our systems for a long time, "results showed that all six active ingredients were absorbed into the body's bloodstream – even after a single use. An additional finding from this new study is that once absorbed, these active ingredients can remain in the body for extended periods of time. This study evaluated absorption of the active ingredients avobenzone, oxybenzone, octocrylene, homosalate, octisalate, and octinoxate." 
Although tests on the effects of these chemicals have been mostly done on animals, there is evidence that these ingredients can be harmful to our liver and that it can potentially disrupt our hormones. Based on tests done by Environmental Working Group and the European Commision, ingredients such as oxybenzone are only relatively safe at 2 % concentration, however there is between 6-15% of oxybenzone in every commercially made sunscreen in the United States. 
Four studies published in 2020, after the FDA released its draft proposal, support previous findings that oxybenzone can act as an endocrine disruptor and may increase the risk of breast cancer and endometriosis (Kariagina 2020, Peinado 2020, Rooney 2020, Santamaria 2020). In addition, the National Toxicology Program found equivocal evidence of carcinogenicity in rats after observing increases in thyroid tumors and uterine hyperplasia in females with high exposure to oxybenzone (NTP 2020).
Environmental Effects of Chemical Sunscreens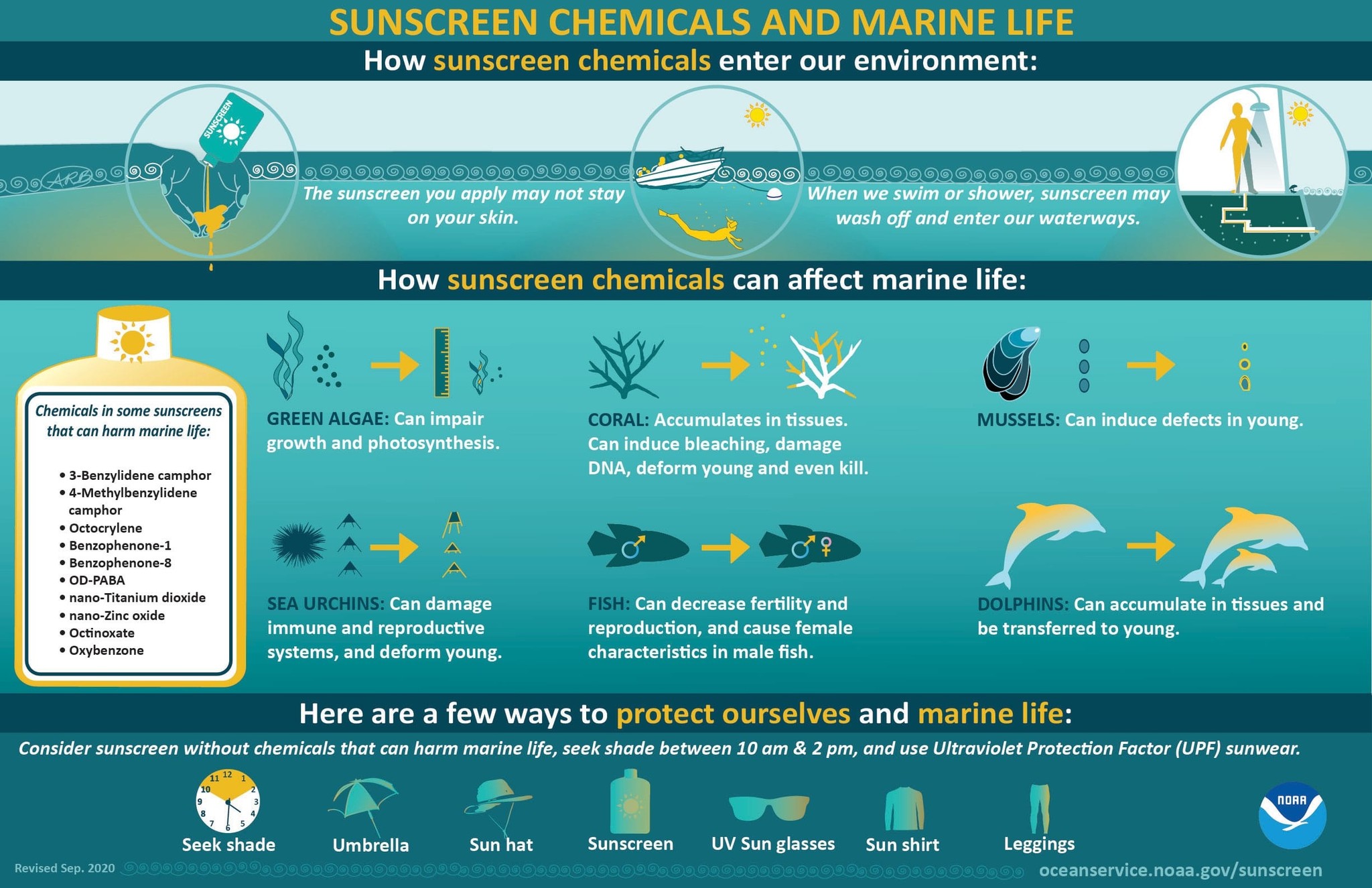 Although further tests are needed to determine the risks of using chemical based sunscreens on humans, there is no doubt that chemical based sunscreens hurts sea life. The National Oceanic and Atmospheric Administration (NOAA) has found oxybenzone and other chemicals degrade coral, cause reproductive issues in fish, damage sea urchins, and accumulate in the tissues of dolphins. 
Where Do We Go From Here?
Well, although we can't 100% determine whether ingredients in chemical based sunscreens affect fertility, hormonal balance or risk of cancer, we can probably conclude that if those chemicals are severely harmful to animals and the environment, they can't be good for us. And why take the risk? Today. there are so many incredible mineral based sunscreens that are not only safe for our bodies and sea life, they are also safe for our children. Here are luca we offer a wide range of mineral sunscreens, so that you can rest assured that you're skin is protected. Some of our favorites are the Eir Surf Mud Pro, which is incredible for anyone spending long periods in the sun. The Butter Me Up Organic Sunscreen is the most luxurious, and moisturizing for the body. The Alive Sunscreen is incredible for the whole family and finally the EiR Surf Mud Pro Oil is great for anyone who wants a glow but wants to protect from UV rays simultaneously.